DON'T TRY TO RUIN THIS PAGE, I SEE YOU

This page is only for admin people only. If you edit the page without an admin, you could break the policy law and get marked as a Killed Maninth clone.
"
Join Gree, and His Friends, to Save the World.
"
 

— Tagline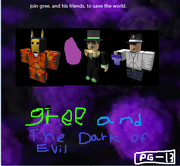 Gree and The Dark of Evil is a 2014 fantasy-adventure film directed by Tom Baison, produced by Blue Hanson. It is sequel of the 2013 film Gree and The Gold York.
Plot
Gree's girl get stolen and The World are now by evil. His Friends to save The World is gree443 and BlUE293, Gree will get more his non-Friends. more coming soon.
Cast
Heroes
Mario
Luigi
Yoshi
Roblox
Kirby
Mr. Bean
Pee-wee
Goku
Spy (TF2)
PaRappa the Rapper
Spyro
Conker
Indiana Jones
Muppets
Sonic
Banjo-Kazooie
Gordon Freeman
Ewoks
McZee (3DMM)
Aladdin (Disney)
Roger Rabbit
Winnie the Pooh
Fix-It Felix, Jr.
Batman
Road Runner
Bugs Bunny
Superman
National Lampoon
Ace Ventura
The Mask
Mickey Mouse
Shrek
Naruto
Johnny 5
Ghostbusters
Kevin McCallister
Robin (Batman)
Jet Set Radio
Pac Man
Wall-E
Courage the Cowardly Dog
Johnny Bravo
Annoying Orange
Nyan Cat
Austin Powers
The Matrix
E.T.
Michael J. Fox
Godzilla
Dexter (Dexter's Laboratory)
Tom and Jerry
Conan the Barbarian
Garfield
Odie
He-Man
Sailor Moon
Stuart Little
Bubsy
AVGN
RRabbit42
Stampylongnose
Derek Zoolander
Ed and Dexter Reed
J & K (Men in Black)
Spongebob
The Incredibles
Villains
Boba Fett
Marx
Koopas
Cruella de Vil
Wreck-It Ralph
Jafar (Disney)
Poo (Conker)
Joker (Batman)
Dr. Eggman
Hannah Montana
Bowser
Kamek
Jareth the Goblin King (Labyrinth)
Zombies
Baby Geniuses
Catwoman
Jaws
Dora The Explorer
Dr. Evil
Shaq-Fu
Mario (Super Mario Bros. Movie)
Luigi (Super Mario Bros. Movie)
Evil Santa
Stay Puft Marshmallow Man
Lots-o'-Huggin' Bear
Croco (Super Mario RPG)
Carface Carruthers
Warren T. Rat
Cat R. Waul
The Grand Duke of Owls
Gremlins
Critters
Snidely Whiplash
Sunset Shimmer
Davy Jones (Pirates of the Caribbean)
Ying-Ying Bird
Queen Chrysalis
King Sombra
Nightmare Moon
Plankton
Little Guy
Superbabies (Baby Geniuses 2)
Cheetahmen